Mobile alloy wheel refurbishment and wheel repair near Harpenden, Hertfordshire – we will come to you!
Wheel Business specialises in refurbishing diamond cut alloy wheels and standard alloy wheels using the latest precision techniques and equipment. Working for trade and private customers in Harpenden, Wheathampstead and throughout the nearby areas of Hertfordshire, we take considerable pride in the standard of our workmanship.
Just a few years ago alloy wheels were seen as a luxury, but now many car manufacturers sell their cars with alloy wheels as standard. Our mobile alloy wheel repairs and refurbishment service brings all the necessary equipment to your door, so we can make fast and cost-effective repairs to your wheels.
We work with both private individuals and trade customers working at garages, car dealerships and body shops and have built up an excellent reputation throughout the local areas, including in Woking and Luton. All orders are processed without delay.
We offer a variety of services including mobile diamond cut alloy wheel refurbs and repairs, standard alloy wheel repair, alloy spraying, alloy scuff repair, alloy scratch repair, and alloy wheel painting.
We have a specialist alloy wheel reconditioning equipment in our van, including a world-class diamond cutting machine, a powder coat spray area, a hi-tech infrared oven, an adjustable wheel repair workstation, and a full-size tyre machine base.
We can work on wheels from 14'' to 22'' and we are so proud of the work that we do that we offer a 12-month warranty with every alloy wheel refurbishment that we complete.
We've been refurbishing alloys in Hertfordshire, Buckinghamshire, and Bedfordshire for the past 10 years.
We pride ourselves on providing very friendly customer friendly customer service to all our clients.
We provide a high quality service refurbishing and repairing standard and diamond cut alloys.
The majority of our work comes through word of mouth, we're trusted to get the job done and done well.
We refurbish most car manufacturers' alloy wheels including (though not limited to):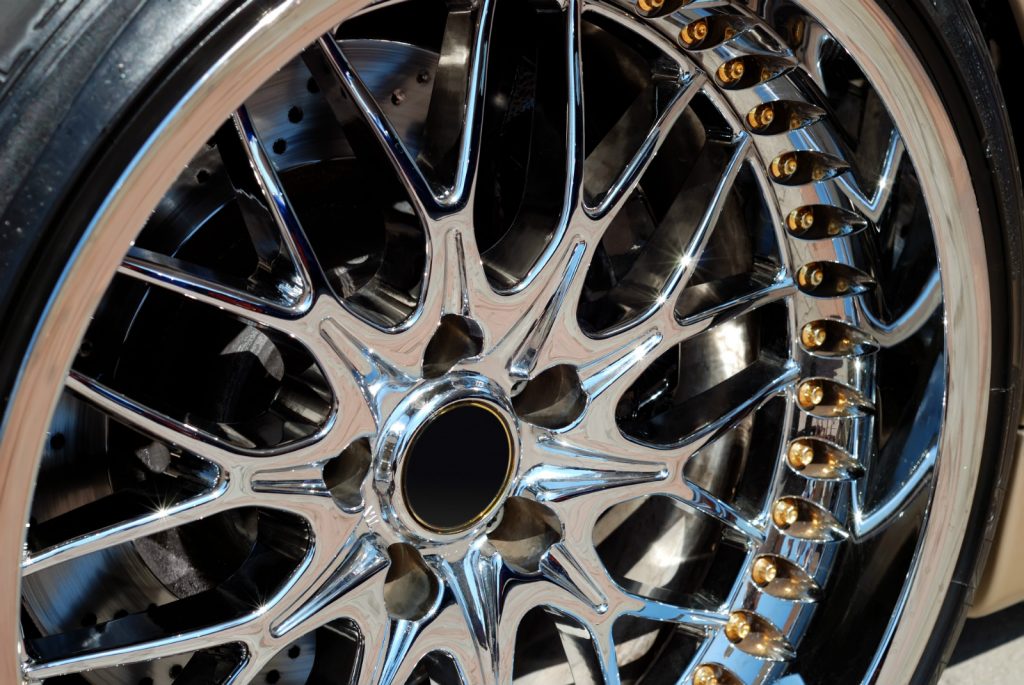 For a quote for alloy wheel repairs, please call us now on 01442 731 838 or 07538 173 974.
Affordable and reliable mobile alloy wheel diamond cut refurbs in and around Wheathampstead (AL3)
What is a diamond cut alloy wheel? If you look closely at these alloy wheels you will see that they are shinier than standard wheels, which contrasts against the spoke and drum colour of the wheel. This has always been the first choice of finish for prestige cars but now is also popular on standard cars.
We use state-of-the-art diamond cutting machinery that uses touchscreen technology for a superior finish. If you have a small scuff or chip, this will be eliminated immediately by the machinery, which cuts an incredibly thin layer off the alloy. The equipment is so accurate, that your alloys will always come out looking immaculate.
When the diamond cut wheel repairs are finished, the wheel is then coated for a smooth and durable finish with scratch-proof lacquer. The wheel is then baked in our infra-red oven and inspected to ensure the best finish.
Whether you want to preserve the look of your car or are looking to attract the best possible resale price, talk to us about our diamond cutting repair service.
Harpenden trade alloy wheel refurbishment
As well as bringing our mobile wheel repairs to private customers at their homes or businesses, we work with trade and business customers throughout the local areas. Whether you are a body repair centre, dealership, garage or car leasing company, we have the tools and equipment to restore your wheels to mint condition.
We offer a fantastic service from start to finish and are your one-stop-solution for all alloy wheel problems. We can assist with:
Alloy wheel scratch repair
Alloy wheel chip repair
Alloy wheel polishing
Alloy wheel spraying
Kerbed wheels
Scraped wheels
Most wheels can be repaired or restored but on the rare occasions that alloys are in an irreparable condition, we will advise you. In terms of how long it will take to refurbish any alloy wheels it will depend on the damage and number of wheels but generally, it takes around four or five hours per set.
For a quote for mobile alloy wheel restoration in Harpenden, call our team now
We deliver a convenient and quality service, so call us now for more information or an estimate for alloy wheel reconditioning. We can be reached at 01442 731 838 or 07538 173 974. Alternatively, drop us a line at  contact@wheelbusiness.co.uk and we will respond as quickly as we can.
We cover a wide area including:
Hyde, Kingsbourne Green, Chiltern Green, Redbourn, Wheathampstead, Flamstead & Kimpton
Just bought a second hand Jaguar where the alloys were very badly kerb damaged. Contacted the Wheel Business who came to my office and they are now like new....thanks a million.
Awesome service. My car now looks perfect. Great value and very convenient. Thanks Dean.