Mobile alloy wheel repair refurbishment by wheel specialists in Reigate, Surrey
Are you looking for an excellent alloy wheel refurbishment and repairs service near you? Here at Wheel Business, we offer a competitively priced, professional, mobile alloy wheel diamond cut refurb in Reigate, Chipstead, Gatton, Betchworth and the nearby areas of Surrey.
We offer a fully-mobile alloy wheel repairs service and can bring our workshop to your home, garage, body shop, office, or a convenient location and complete the work there and then. We offer unrivalled levels of expertise and service and can help with all alloy wheels jobs, including refurbishment and repairs, alloy spraying, alloy scuff repair, alloy scratch repair, and diamond cut alloy repairs.
We have worked hard to build a reputation throughout the local areas for exceptional quality and value. Whether you need alloy repair for a single wheel or you are a trade customer looking for an alloy wheel repairs specialist for regular alloy repairs, our team can assist.
Over a decade of experience regarding all aspects of alloy repairs, refurbishment, and condition to bring your wheels back to excellent condition
The latest and most technically-advanced equipment in our mobile workshop
Fully mobile, saving you time and money.
Full Public Liability Insurance and Trade Vehicle Insurance, for your complete peace of mind.
To talk to our alloy wheel repairs experts about what you need, please call 01372 613 029 or 07818 037 000.
We've been refurbishing alloys in Surrey, Sussex, Kent and South London for the past 10 years.
We pride ourselves on providing very friendly customer friendly customer service to all our clients.
We provide a high quality service refurbishing and repairing standard and diamond cut alloys.
The majority of our work comes through word of mouth, we're trusted to get the job done and done well.
Diamond cut alloy wheel repairs near Chipstead
Diamond cut alloys are becoming increasingly popular for people who enjoy their cars and want them to stand apart from the crowd in Chipstead and Reigate. The diamond cut finish is much shinier than a standard finish and when compared, the difference is immediately noticeable. A diamond cut finish is glossy, polished, and mirror-like.
Your diamond cut alloy wheels will turn heads, so best keep them that way. We understand how easy it is to damage your alloys, whether you have reversed into a right spot, driven up a bumpy country road, or been rushing and your alloys have been left not looking so good. There are various ways you might damage your alloys but the most common is by scraping the kerb. Our state-of-the-art equipment can get your diamond cut alloys back up to their former glory in barely any time at all.
We use an advanced mobile lathe for alloy reconditioning, which removes a minimal layer from the face of the wheel, remove chips, scratches, and corrosion. The wheel is then powder coated in lacquer and baked to create a hard finish. We can match against any original colour and use advanced touchscreen technology for a brilliant finish, so your wheels look like new.
RH1 trade alloy wheel reconditioning and wheel repair
Are you a motor dealer or body repairs shop in Reigate looking for a reliable and quality alloy wheel repair service? Then look no further. Here at Wheel Business we can repair and recondition wheels for dealerships, body shops, insurance companies, and many others. We work with wheels from all manufacturers and can offer cost-effective solutions, whatever your requirements.
Guaranteed quality and service – all wheels come with a comprehensive 12-month guarantee
Super-quick turnaround times for diamond cut alloy wheels
Cost-effective and much cheaper than buying new meals
Service designed to fit around your schedule and requirements
All work completed on your site
Committed to health and safety compliance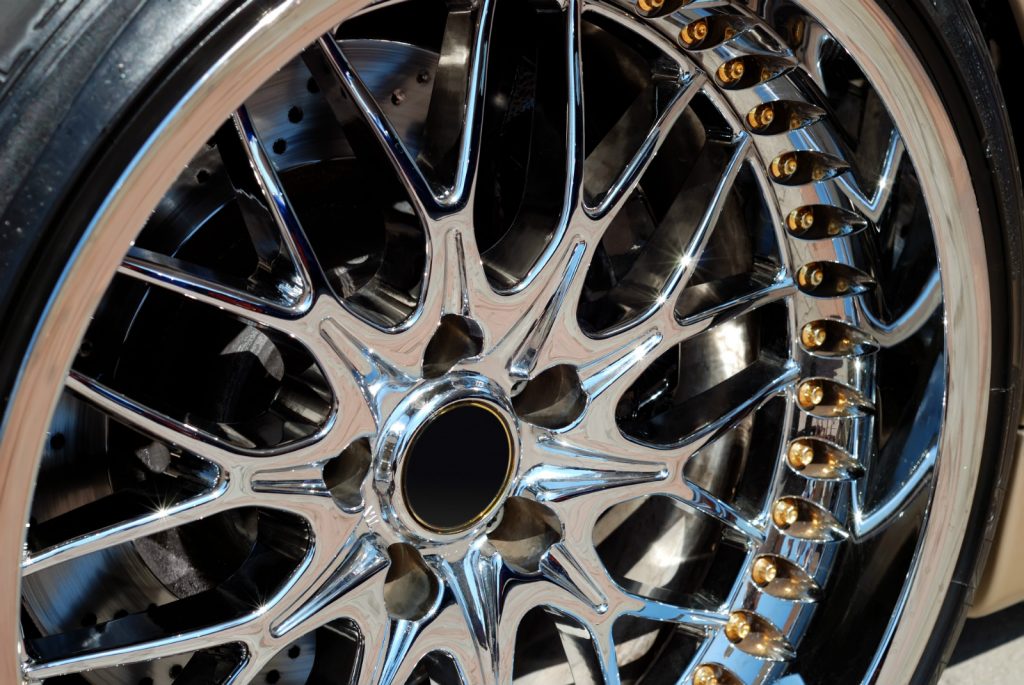 How does our mobile alloy wheel restoration and alloy repair near Reigate work?
The alloy wheel restoration is normally completed in three steps:
We arrive, on time at the pre-agreed location to start the work
The wheels are removed from the car
The tyres are pushed away from the alloy rim carefully, though they normally remain on the wheel
All visible areas of the tyres and secondary facias are taped up
The wheel damage is assessed, and the relevant equipment is set up
Refurbishment and repairs
We repair all damaged using the latest equipment, machinery, and techniques
The wheels are covered in a primer to prevent corrosion
The exact colour of the alloy is identified and then each alloy is re-painted to match the original colour
The alloys are sprayed with a clear lacquer
The wheel is baked until the lacquer is dry
The tyres are inflated and returned to your car
The wheels are fitted and then the wheel nuts are tightened up to the optimal level
A final inspection is completed to ensure the highest quality finish
Alloy wheel repairs questions in Reigate
Many people ask us how they can look after their alloy wheels after any refurb in Reigate. We say that you can drive your car after a repair but to not wash them for 48 hours, as chemicals may damage the new lacquer. After this time, we recommend that you wash your alloys on a weekly basis to keep them looking good and to get rid of corrosive salts from the road or brake dust. We suggest using an ordinary hose or bucket to wash your alloys as high-pressure jet washes can reduce the life expectancy of your wheels.
Contact to request a quote for alloy wheel repairs in Reigate
Chat with our alloy wheels repairs specialists in Reigate about your requirements now by 01372 613 029 or 07818 037 000 or emailing info@wheelbusiness.co.uk
We cover a wide area including:
Gatton, Betchworth, Buckland and Leigh
Just bought a second hand Jaguar where the alloys were very badly kerb damaged. Contacted the Wheel Business who came to my office and they are now like new....thanks a million.
Awesome service. My car now looks perfect. Great value and very convenient. Thanks Dean.
Wheel Business can refurbish and repair alloys from every car manufacturer including: –
Abarth
Alfa Romeo
Audi
BMW
Citreon
Cupra
Dacia
Daihatsu
Fiat
Fiat
Ford
Honda
Hyundai
Infiniti
Isuzu
Kia
Lexus
Mazda
Mercedes
MG
Mini
Mitsubishi
Nissan
Peugeot
Polaris
Proton
Qoros
Radical
Renault
Seat
Skoda
Smart
Ssangsong Subaru
Suzuki
Tesla
Toyota
Vauxhall
Volkswagen
Volvo
VW